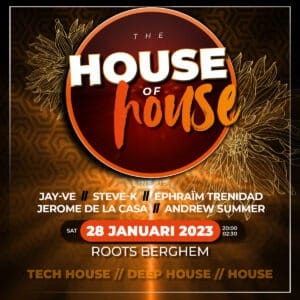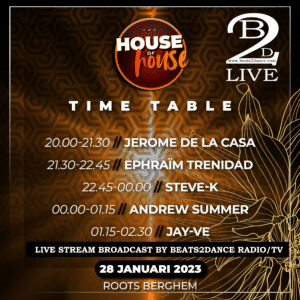 Finally!
After much deliberation, weighing, thinking whether or not I'm going to do this, where am I going to do this….. finally found the perfect combination at Roots in Berghem!
Back to basics, back to the cozy and cozy feeling of a small club!
That's what we're going for with the first edition of "The House of House"!
No large halls, no expensive entrance, no fuss, just Brabant cosiness with nice beats, put on your dancing shoes and have a great party with a maximum of 175 guests!
Line-up:
Steve-K, Andrew Summer, Ephraim Trenidad, Jerome de la Casa and Jay-Ve 🤩
They will perform wonderful sounds on the live stream of Beats2dance TV from house, deep house and tech house!
Put this link in your favorites!!
https://beats2dance.com/house-of-house/