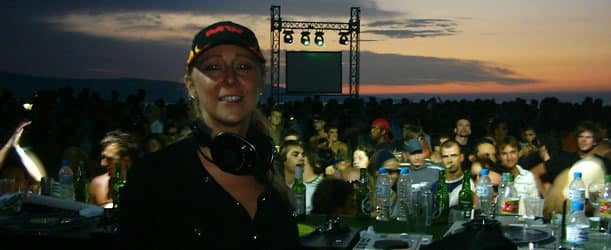 Miss Wendy (NL)
ULTRAX radioshow / Presented by Miss Wendy
Miss Wendy has been active as a dj since 1994. As she experienced the beginning of the housescene in Holland, she got inspired to play her own music. So it didn't take long before she had her own turntables and her own records. From there on it was just a matter of time to dj at her first party.
After she had obtained her residences in the hot clubscene of Amsterdam ("Dino's", "Escape – Club BPM"…etc.) she started to get some serious "die-hard" fans. That's because she is loved for her different "bassy" uplifting style, with the right technical moves at the right moment.
This is how "Dino's" became one of the most hot and busy spots, with the best sound and the best soundsystem, in the city. Together with her dj-colleagues she experienced a full madhouse, every weekend for about 8 years.
Through the years Miss Wendy has played together with artists like: MC Yo Hans, Jean (iT), Guan Elmzoon (King Bee), Nicky Nicole, Spider, Tom Harding (UK), Mike S, Eric Nouhan, Mayday, Dimitri, MC Da Silva, Max-E-Groove (UK), Per, Tall Paul (UK), Mark van Dale, JP, Erik E, Miss Djax, Dano, Michel de Hey, Jurgen (Fresh FM), Anita Doth, Jose, Buzz Fuzz, Lisa Lashes, Johan Gielen, Randy Katana, MC Pryme, The Partysquad, Abraxas and Flamman (Fierce Ruling Diva), Robert Armani, Angel Moraes (USA), Billy Nasty (UK)…
Nowadays she is a national and international talent and she is playing throughout Holland in clubs, events and festivals like: Heineken Music Hall (Amsterdam), Escape Venue (Amsterdam), Wester Unie (Amsterdam), Paradiso (Amsterdam), Beachclub Vroeger (Bloemendaal), Dance Valley Festival (UDC), HouseQlassics (Q-Dance/ID&T), Extrema Festival (Eindhoven), Ground Zero Festival (UDC/Multigroove), Furball, MTV Europe, MTV Bulgaria, TMF, Slam FM, VERONICA TV, AVRO TV, BBC, AT5, SALTO RTV, Fresh FM … and in countries like: Switzerland (Loveparade / Zurichfest), Ibiza, Germany (Tunnel, Hamburg / Loveparade, Berlin), Belgium, Turkey, Portugal, Bulgaria (Samsarabeach / Sofia), Russia, Tunis ….
Her musicstyle has finetuned into a variety of club-electro, tribal, with techno-trance influences and still ofcourse always with a strong bass. By mixing different styles together, her musicsets will remain interesting, moving and pumping.
In the meantime, she has been organizing her own monthly MINX Exclusive parties at the wellknown club "Escape" in Amsterdam, Club CREAM at the "Eindelijk Weer" in Almere and the Tec909 parties, at the "P3" in Purmerend, together with Alex Motu. These concepts are powered with state of the art sound, light, effectlights, lasers and deco. All this under the wings of 'Dutch Dance Enterprises'.
Latest edition to the 'Dutch Dance Enterprises' organisation is DJ Miss Wendy's own weekly ULTRAX radioshow and the digital recording labels 'Orgasmic Recordings' and 'Dutch Diamond Beats'. 'Orgasmic Recordings' releases two types of dance. DEEPHOUSE and TECHHOUSE.
'Dutch Diamond Beats' releases DUTCH DANCE and EDM.
And if all that ain't enough….in 2009 and 2010 they have been running their own TV production company …creating 'Amsterdam Dance Radio & TV'. Broadcasting live on radio & TV, as well as on the internet.
The first ever and one and only Dance Radio and TV show in the history of the capitol of Holland … Amsterdam.