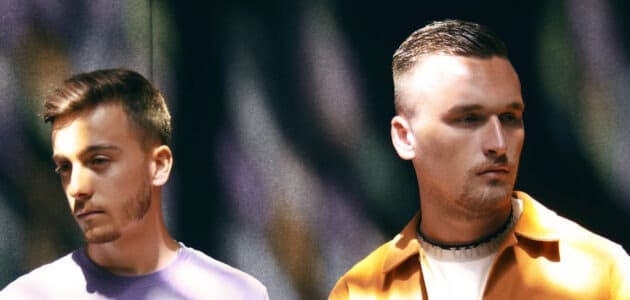 SILK & FUSS (NL)
Silk & Fuss
The rising duo existing of Sem Dieke and Damon van der Waal is making their way up in the tech house scene. With their music and live sets featured as groovy, rhythmic, funky and always refreshing, the boys have a bright future ahead. Sem and Damon are busy creating their own kind of brand. Enough reasons to make sure you keep an eye on Silk & Fuss.
From early on the two friends from Alkmaar have been interested in all sorts of music. They both were eleven when they got in to DJ-ing and this, quickly after, led to their interest in music production as well. The act was born when the first productions came along and they got their first gigs. After discovering the wide range that music has to offer, the guys found their real passion in tech house and the DJ/Producer collective was ready to take off.
Meanwhile the boys are taking it all to a next level. With tracks supported by the likes of Richy Ahmed, Paco Osuna, Michael Bibi, Riva Starr, Pete Tong, Roger Sanchez, Seb Zito, Rich NxT, ANOTR, Claptone, Cassius, Detlef, Mat.Joe, Reelow, Dimmish, Jean Pierre, Chris Stussy, Mason Collective, Bassel Darwish, Artslaves, Jacky, Lexlay, Shiba San, Golf Clap, Ramin Rezaie, Juanito and many more acclaimed artists, Silk & Fuss had a terrific kick start. It seems just to be the beginning as the boys just signed a track at one of the biggest tech house labels. This one is planned for autumn of 2020 and there are some more exciting releases in the pipeline for the rest of the year.
Which started as playing at friend's parties became a bit more interesting, when in 2019 they were one of the youngest acts to play at the famous UNITED ANTS and after having had their first foreign gig in Germany, the next list of gigs is loading. With a passion of making radioshows the boys created their monthly podcast, Silk & Fuss' Finest, which is broadcasted on six radiostations and they've already had some big guest dj's in the show. With new releases, gigs and other projects on the horizon, there's no reason for not checking out 'the upcoming act in tech house', Silk & Fuss.
''You'll see us more often.'' – Silk & Fuss