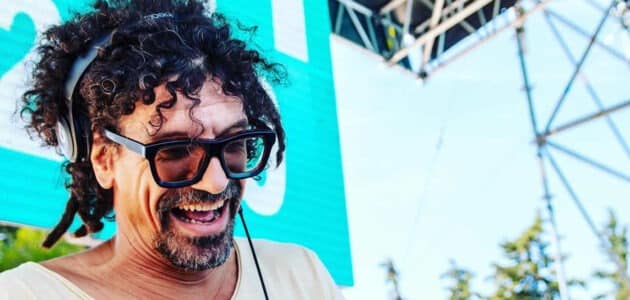 Gary Caos (ITA)
"ITALY'S FINEST HOUSE DJ" – ROBBIE RIVERA
"GARY CAOS IS THE PERFECT ARCHETYPE OF THE MODERN PARTYBOY."
If you dig house music, then look no further than Bologna, Italy's Gary Caos and his label, Casa Rossa. One of the driving forces propelling the international house scene, Caos and Casa Rossa have racked up an astonishing number of accolades since the label's inception in 2009.
An experienced producer, DJ, and label owner, Gary Caos' music has taken him around the world to bring his potent blend of incendiary house to the people.
Having released tunes through Armada, Ultra, Ministry of Sound, Universal StreetKing, HedKandi, EGO, and more – it's not just listeners who have taken notice of Caos, and his music has been supported by a cast of all-star international DJs such as Tiësto, Umek, Carl Cox, Milk & Sugar, Chuckie, Dj Dan, Robbie Rivera, and more.
Scoring a slew of top charting Beatport original releases and remixes, Gary Caos and Casa Rossa has been on a nonstop journey to elevate the world's dance floors with his fiery house and future house sound.
His original tunes and remixes reached labels such as Defected, Ministry Of Sound, Street King,
Universal, HedKandi, EGO, Time Records, Armada Music, Ultra and many others. He officially remixed one of the milestones of music: Ray Charles' Hit The Road Jack
Being supported by international djs like Tiesto, Umek, Carl Cox, Milk & Sugar, Mark Knight, Chuckie, Dj Dan, Robbie Rivera and many others, Gary's music is not easy to label but has that Caos touch in it which makes it different, recognizable and beloved by fans all over the world.
Gary's successful music got him to play in several venues and festivals around the world, touring Asia, USA and Europe.
2013 couldn't start better for Gary. He tops Beatport's House top 100, scoring a first place for over three months in a row, with his amazing tune Soul Power '74 – Sax Power 2K13 (the track stays on Beatport's House top 100 for over 7 months!).
He later collaborates with artists like Dj Dan on InStereo Recordings, Jerome Robins and Richard Grey with internationally acclaimed tunes such as "Minibus" (w. Dj Dan), Barabatiri (w. Richard Grey), and keeps on releasing hot singles on Casa Rossa, topping constantly international top 100s.
A huge step in 2013 for his career is the collaboration with Pitbull and Snow Tha Product with the song "FCK" on Artist Partner Group's dance label Parametric (Atlantic), which was released on September 24th after his Sax Power debut on Parametric (inc. official videoclip).
2014 starts with a great comeback to Casa Rossa with yet another top 10 on Beatport with Mr. Brown (featuring Absolut Groovers), as well as another top 20 with Respect (featuring Yakka).  The new year sets a new high for Gary's Casa Rossa standards, having also a first place on Beatport house top 10 with Absolut Groovers' What it Is.
In 2015 Gary continues to strike with club and underground hits, being always present on all the best digital stores' charts, while touring all around the world. His new singles and remixes are released on labels such as Juicy Music by Robbie Rivera, Vamos Music and One Love, while his label Casa Rossa is among the 10 best selling House labels on Beatport.com!
ON SEPTEMBER 2015 The release of "SOS" with Richard Grey, on his label Casa Rossa, marks another milestone in Gary Caos busy releasing schedule, having the track charted by many international top acts and sitting in the Beatport house top 10 for over 50 days!
Gary Caos is probably best known for his Hit tunes and remixes:
• Gary Caos vs Double Exposure – My Love is Free 2010 – [HedKandi / Salsoul Recordings]
• Gary Caos – Madre Terra
• Gary Caos – Party People [Casa Rossa / Universal]
• Ray Charles – Hit The Road Jack (Gary Caos Remix)
• Triple X – Feel The Same (Gary Caos Remixes) [Time / Rise]
• Gary Caos – Let's Play [Casa Rossa]
• Richard Grey and House Republic – Nuggetz (Gary Caos Remix) [EGO]
• Gary Caos & Julia St. Louis – It's Not Right (But It's OK) [Molto / Sound Division]
• Serebro – Mama Lover (Gary Caos Remixes)
• Gary Caos – Specialize in Love [Armada Music]
• Gary Caos & Bernasconi feat. In-Grid – La Trompette (Party People) [Universal / Starshit]
• Gary Caos – Get Up [Instereo Recordings]
• Gary Caos – Sax Power [Casa Rossa]
---